Thanks to Matthew Innis of the
"Underpaintings" blog for his extensive review
of my instructional video "How I Paint Dinosaurs." Here's an excerpt:
"The overall feeling and presentation of the film is "old school," but "old school" at its best. It does not have all of the bells and whistles of computer graphics and 3-D object renderings, but that is not missed here, nor would it have been welcome (and I usually like the bells and whistles too). Gurney speaks throughout the film, is always clear, and the information he shares is always spot-on. The filming is good, and the delivery, in many ways, is reminiscent of 1950′s educational films mixed with old episodes of Mutual of Omaha's Wild Kingdom, which I found interesting. And of course, the artwork itself is excellent, and shows how much, both intellectually and technically, Gurney is the progeny of the greatest of the Golden Age Illustrators.
"Gurney's talent at finding a balance, as I alluded to earlier, is really what makes the backbone of this film. Never is the film too heady, nor too simple. Every topic is explored well, but not in unwanted detail. The music is good, but not over-played. It is as if Gurney can instinctively find the perfect fulcrum point for any topic, and just balance there effortlessly.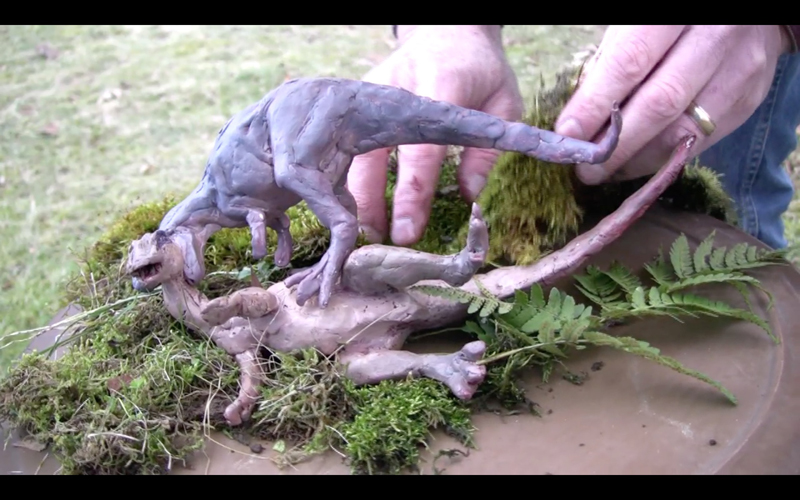 "My favorite parts of the film were when Gurney was painting the background in the first segment, for which he relied heavily upon his experience painting plein air landscapes, the demonstration of the color gamut model in action in the second half, his use of maquettes to determine composition and value arrangements, and the fact that I was able to watch the full movie on a cross-country flight with my six-year-old, and that he was engaged the entire time (again, this is part of Gurney's skill – even though some of the topics were over the head of my young son, certain elements, like the quirky appearances of Mr. Kooks, were able to re-draw his attention when he was at risk of being overwhelmed with information).
"The running time of How I Paint Dinosaurs is 52 minutes, and is available as both a DVD for $32.00 USD, or as a digital download for $15.00 USD. Although best suited for beginner to intermediate painters, there is much in it to be appreciated by all levels, from young amateurs with an interest in dinosaurs to experienced Academic artists wishing to experiment with painting more imaginative subjects and making them look real. It should also be of particular interest to young persons interested in the field of illustration as the film gives a clear breakdown of completing an illustration commission.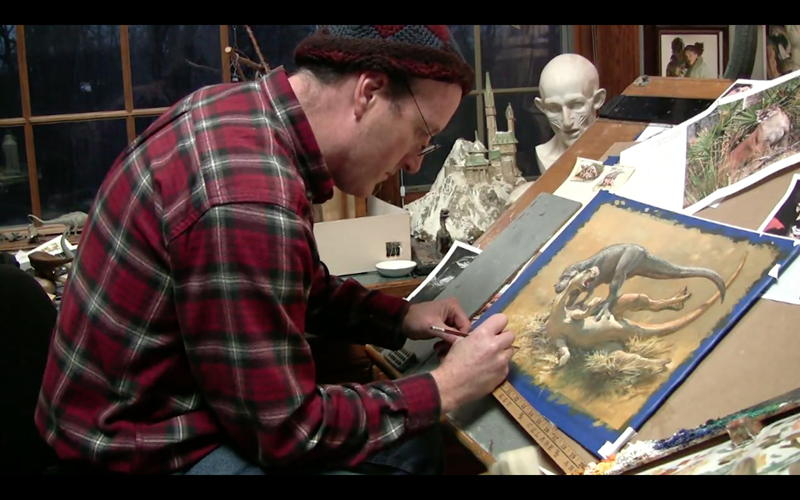 "For more information on the video, or to place an order, please visit James Gurney's website: www.jamesgurney.com. And while you are there, make sure to look at Gurney's books, Color and Light and Imaginative Realism, two indispensable guides which cover in more depth everything discussed in the film, and so much more. All are highly recommended.
Matthew Innis's blog Underpaintings is a subscription resource for the field of representational painting, past and present.
More info at the Underpaintings home page.