Today we'll take a look at Chapter 3: "The Technique of Painting" from Harold Speed's 1924 art instruction book
Oil Painting Techniques and Materials
.
I'll present Speed's main points in boldface type either verbatim or paraphrased, followed by comments of my own. If you want to add a comment, please use the numbered points to refer to the relevant section of the chapter.
Ada in Her Garden, by Henry Hensche,
an example of impressionistic vision.
1. "Few people realize how little they really see of the marvelous things happening on the retina of the eyes."
Several times in this chapter, Speed repeats a
common logical fallacy
. The idea is that we see the image on our retinas, as if there's a homunculus farther back in our heads watching the movie at the back of our eyes. This kicks the can farther down the road and doesn't really explain anything.
The retina is better understood as an extension of the brain. Basic visual processing such as edge detection begins happening at the retinal level, and higher-level visual processing occurs as the neural pathways travel back to the visual cortex. The image is processed even further as it moves to the outer cortical areas of the conscious brain.
Nevertheless, what he's saying at its core makes sense. Learning to see as a painter sees involves marshaling our awareness on many levels, and it doesn't come naturally.
Drawing by the sculptor Carpeaux
2. "Sight as a faculty is not so essential to our survival as some of our other senses, such as touch."
This assertion, which he develops throughout the chapter, puzzles me on its surface. How could touch be more essential to our survival than vision? How many things do average modern humans actually touch throughout an average day beyond doorknobs, keyboards, silverware, steering wheels, coffee cups, beer tabs, and the TV remote? Our eyes take in everything from oncoming cars to houses to trees to other people's facial expressions.
What he's trying to express, I think, is the idea that we form mental understandings of things that differ from the "impressionist" view of subjective appearances. Mr. Speed may be using touch as a kind of metaphor for a more Platonic "grasp" of objects that is symbolic and simplified, in the manner of cartoon drawings or Egyptian images.
Touch is an interesting sense compared to sight because it is view-independent, and also separate from any sense of color and light. It's fascinating to look at drawings by the great sculptors, such as Carpeaux, above, because the drawings show little concern for lighting, tone, and color, but rather are more concerned with structure and volume.
Last night Jeanette and I wanted to play with this idea, so we took turns putting an unfamiliar object in a paper bag and asked the other to recognize and describe the object without looking. This would be a fun art school assignment--get a bone or tool or sculpture, and put it in a black box with holes in the side and ask students to come up and feel the object, then go back to their seat and try to draw it. Doing so would require that they invent a POV and a light source and a color scheme. Very interesting challenge.
3. "...the surprise that greeted the first pictures of the impressionist movement."
The principles and practices of impressionism have been so thoroughly integrated into the contemporary academic movement that it's hard to imagine how revolutionary they must have seemed to a Royal Academician a century ago.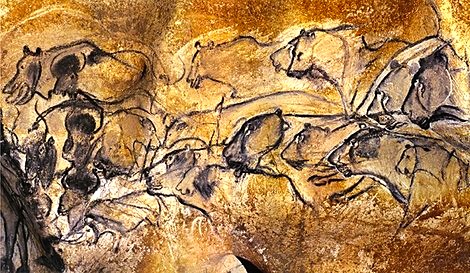 Chauvet cave art. Speed suggests that such art is an early example of impressionistic vision.
To my eye, they make a case for art informed by a sense of touch.
These were people who actually killed and dissected these animals,
and they would have known them inside out.
4. Parallel between developments in art history and the individual's development of the faculty of sight.
This is an example of
"recapitulation theory," something Speed might have read in Freud.
The technical development witnessed throughout art history he argues, develops from cartoon symbols to line to shading, to coloring, to impressionistic vision. Art students learning to paint follow the same course of development.
In this chapter, as with the last book on drawing, Speed is suggesting that all this development may not entirely be progress, and that artists shouldn't lose sight of the importance of line, touch, or the Platonic sense—whatever you want to call it.
5. "The extreme impressionists said there was no outline, and no use for line drawing."
Well, maybe the extreme impressionists such as Monet were using that argument as an excuse because they didn't know how to draw very well in the classical academic sense. There were plenty of great painters who achieved a synthesis between accurate drawing and impressionistic painting, such as Sargent, Zorn, Sorolla, Krøyer, and Mucha, just to name a few.
We sometimes hear art teachers say "There are no lines in nature." I've always thought this was a bit of a silly saying because even if you're drawing with cut-out shapes, every shape has a boundary edge, which is a kind of line. And if you want to argue that there are no lines in nature, you might as well admit that there's
nothing
visual in nature. There's no color in nature either. What we see is created in our heads by our eyes and brains, and
edge detection—the perceptual mechanism behind our sense of line
—is a very important element of visual perception, as important as any other feature of perception.
Speed has set us up for a system of instruction where he takes us all the way from line—that is, form regarded view-independent, tone-independent, and color-independent—to the full music of subjective appearances.
Next week—Chapter 4: The Painter's Training
In its original edition, the book is called "
The Science and Practice of Oil Painting
." Unfortunately it's not available in a free edition, but there's an inexpensive print edition that Dover publishes under a different title "
Oil Painting Techniques and Materials
,
" and there's also a
Kindle edition
.