Jeanette and I visited Philadelphia yesterday to check out the blockbuster exhibit "
American Watercolor in the Age of Homer and Sargent
," which closes tomorrow.
The exhibition focuses on the period between 1860 and 1925. During that time water media flourished, attracting collectors and critics. Some of the finest realist painters lent their talents to the medium during that era.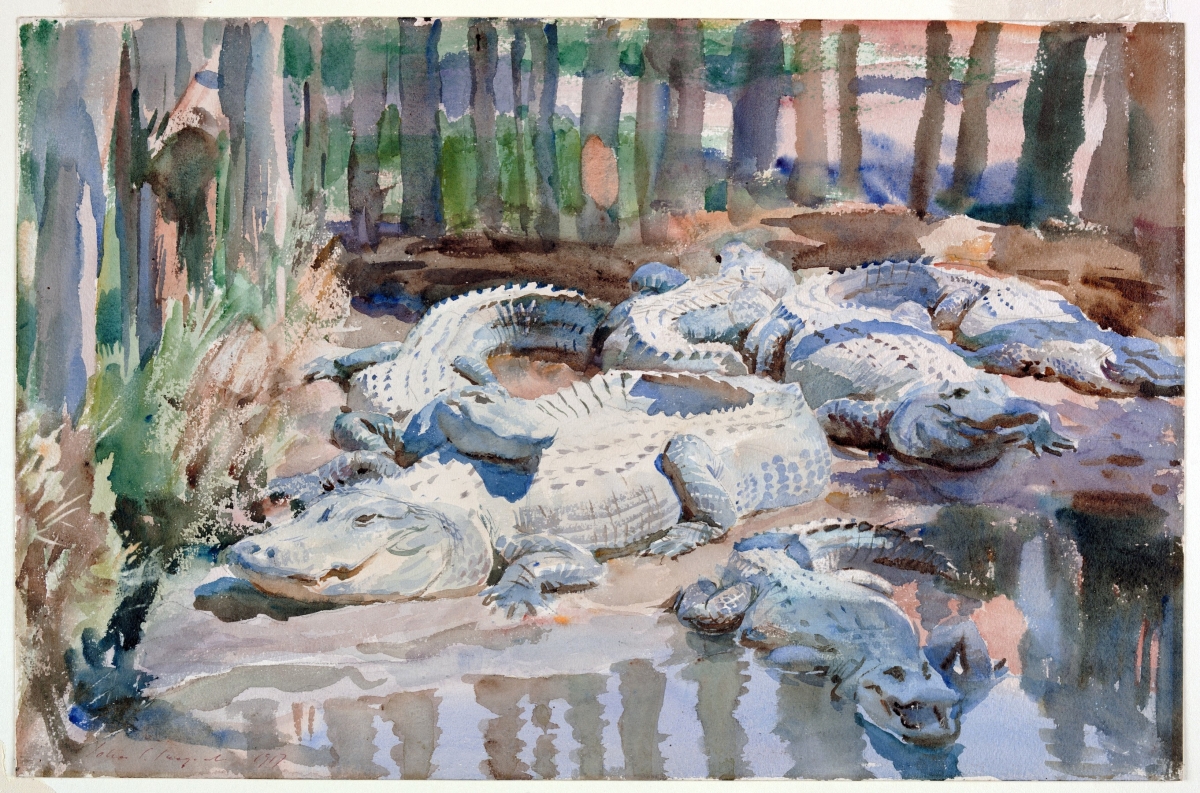 Sargent, Muddy Alligators, 1917 Watercolor over graphite, with masking out and scraping, on wove paper
13 9⁄16 x 20 7⁄8 inches (34.4 x 53 cm) Worcester Art Museum, Worcester, Massachusetts.
There are familiar classics such as Sargent's Muddy Alligators. This plein-air painting would have been a challenging task, given the fact that alligators will hold still only so long, and their movements are sudden and unpredictable. His pencil underdrawing quickly defines the main shapes, but most of the execution is done rapidly with the brush.
The show (and
the book
) features some of the best works by William Trost Richards, Henry Farny, Thomas Moran, Fidelia Bridges, Jessie Wilcox Smith, and Elizabeth Shippen Green.
Edwin Austin Abbey (1852–1911) An Old Song, 1885 Watercolor and opaque watercolor over graphite on paper
28 x 48 inches (71.1 x 121.9 cm) Yale University Art Gallery, New Haven. Edwin Austin Abbey Memorial Collection.
One room of the exhibit is set up as a "watercolor salon," reconstructing the way the works would have been shown in the late 19th century. Large framed paintings were accompanied by potted palms and urns.
Instead of captions, the works in this room are identified by numbers and described in a booklet with black and white illustrations that simulate the engraved style of the day.
Childe Hassam (1859–1935) Boulevard at Night, Paris, 1889 Watercolor on paper
8 x 12 inches (20.3 x 30.5 cm) Private collection
The curators, led by
Kathleen Foster
, did an imaginative job of organizing the paintings into thematic topics. Each room has a different organizing principle, such as: "Ruskin, Turner, and the English Tradition, 1855–1865, Figure Painting in the 1870s: Homer and Eakins, Impressionism from Munich and Rome, and Landscape Painting after 1880: Tonalism."
One of the rooms pitted Homer against Sargent with side-by-side paintings of similar subjects. The curators played a tongue-in-cheek "Who was better?" game. It is impossible to settle such a contest, of course. But it's a fun jumping-off point for discussion.
And it gets museum-goers away from the darn recorded audio tour that dulls their brains, turns them into zombies, and makes the rooms quiet zones where even soft discussion is frowned upon. I watched people using those ear wands, and while they listened to the audio prompts, they only spent 1-2 seconds on average looking at the actual art. The rest of the time they either gazed blankly at the caption or stared into space.

I'd love to see curators work harder to get their museum guests talking with each other and really engaging with the art, rather than being mute and passive.
The final room does that! It has a fascinating presentation by conservator Becca Pollak about the materials and tools that the artists actually used. I'll talk more about this topic in future posts.
It's a massive show that was decades in the making, with about 170 paintings that are rarely exhibited because they're so sensitive to light. The show was very crowded but everyone was polite and good-spirited about it. It took us about four hours to get through it all and see everything.
This is the last weekend. It closes Sunday, but at least the museum will be open until 7:00 pm today and tomorrow. It's a very popular show. If you go, be ready for crowds, and know that you can't go back for a second viewing. Get your tickets online to be sure you get a spot. There are 12-hour metered parking spaces on the streets a few blocks away.
The
catalog
is very thick and comprehensive, with fascinating essays and considerable new scholarship. It's probably worth purchasing for that reason, but inevitably the art reproductionss are on the small side and they just can't do justice to the color and detail of the original artwork.
Museum website:
American Watercolor in the Age of Homer and Sargent
.
Catalog on Amazon:
American Watercolor in the Age of Homer and Sargent