The
Venus Effect
is a perceptual illusion based on classic paintings that show Venus supposedly admiring her own reflection in a mirror.
The viewer, seeing her face in the mirror, may naturally assume that Venus is looking at herself.
The effect gets its name from several old master paintings, including this one by Diego Velázquez.
Veronese's Venus with a Mirror
If she were really looking at herself, we probably wouldn't see her face in the mirror at all (unless we were looking directly over her shoulder).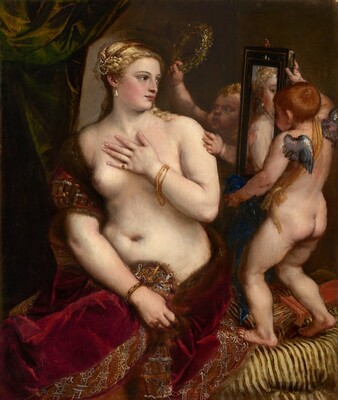 Titian's Venus with a Mirror is even more wildly off-angle.
Given these eye lines, Miss Venus would have to be looking at us, the viewer. That's the way the Rubens looks to me. I read it as her looking at me as I accidentally break into her dressing room. But I think Rubens and his audience interpreted the painting as Venus looking at herself.
The Venus Effect also shows up in cinema, where an actor looks at their mirror reflection. Their head position and gaze direction are often "cheated" so that we can see their face in the mirror without also seeing the camera.